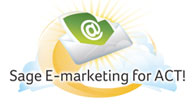 With Sage E-marketing for ACT!1 you can do so much more than simply send emails and track open rates. Build your business using this cloud-based email marketing service that enables you to execute sophisticated campaigns, while leveraging and building on your existing Sage ACT! information.
Put email to work for you
Email marketing helps you reach your contacts more effectively using proven techniques to build your business. Easily design and edit email messages with a simple online editor. And, send larger quantities of email than your current email provider can handle. Email campaigns are easy, inexpensive, and—most importantly—proven to drive sales.
Nurture Prospects Automatically
Create multi-step nurture or drip marketing plans then, drop contacts into a campaign designed just for them. Each campaign can include email, call lists, even postcards, for automatic delivery over time. Drip Marketing blends simple functionality, like automatically sending emails when someone fills out a form on your website, with intelligent technology that reacts differently to contacts based on their behaviors, like automatically mailing a postcard to contacts who did not open a previous email.
Grow Your Prospect Database
Use web forms to collect information from interested prospects. Consider a web form on your website for visitors to fill out. Once the web form is complete, the information is transferred into Sage ACT! and a new contact is created. It's an easy way to gain interested contacts without any labor-intensive effort from you.
Qualify your Sales Leads
Help your salespeople focus on the hottest leads, instead of wading through an entire list of prospects. As your contacts open and click on your email campaigns, Sage E-marketing for ACT!1 assigns a score to each contact based on their interaction with that email. It then gives you a ranked, qualified list of who you should call first—viewable from the contact record in Sage ACT!.
Get more customer details
Use surveys to better understand your customers. Collect information like contact interests, customer satisfaction, phone numbers, email addresses, and event registrations. Simply link from inside an email to a List Updater Survey and ask your customers to add their information. Then, use it to create campaigns that are most relevant to them.