Sync your ACT! data with your mobile device!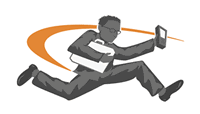 Two-way sync allows you to modify data in ACT! or your mobile device. Data is synchronized directly to the default contacts and calendar application on your mobile device and not some third party application. This ensures the built-in features of your mobile device work with your CRM data.
Supports sync with all the latest mobile devices including Palm, Windows Mobile and Blackberry handhelds.

Why choose CompanionLink over ACT! Link?
Wireless sync with Blackberry, Windows Mobile, and Palm OS devices
Sync more data types such as opportunities, to-dos, etc...
Sync up to five times faster than ACT! Link for Palm
Supports all Blackberry devices
Compatible with all versions of ACT!
Free CompanionLink Technical Support and product updates

Synchronize more information types
Contact
Opportunities
Appointments, meetings, and phone calls
Reminders adn alarm
Notes and histories
Attachment notes
To-do lists and tasks
Additional contacts
User-defined fields
Contact names linked to activites, appointments, and to-dos
Complete activities on your mobile device and sync back to ACT!
Sync data from multiple databases

Other Benefits
Custom field mapping
Exlude personal categories from sync

Which one do I need - CompanionLink Professional or Express?
Express gives you all the basic two-way, USB sync features.


Professional allows you to sync multiple databases, devices and has the option to setup wireless sync and iClink. Professional also allows you to sync your appointments and meetings with Google's free calendar service.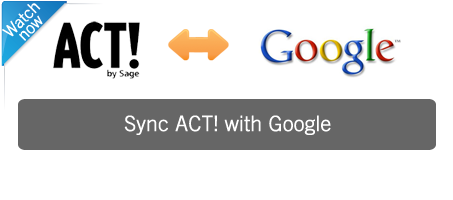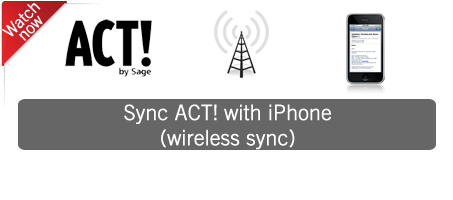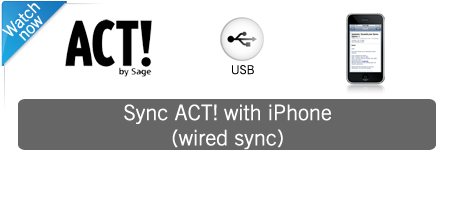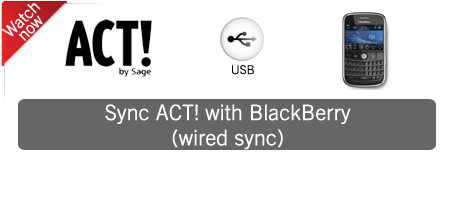 ACT! versions 4.0 and higher

Yes

Yes

GoldeMine versions 4.0 and higher

Yes
dBase versions only

Yes
dBase and SQL versions

Outlook versions 97 and higher

Yes

Yes

Lotus Notes versions 4.6 and higher

Yes

Yes

Time & Chaos version 6.0 and higher

Yes

Yes

Chaos !ntellect contac manager

Yes

Yes

Novell Group Wise version 6.5 and higher

Yes

Yes

Palm Desktop vesions 2 and higher

Yes

Yes

SalesJunction.com

Yes

Yes

Syncs with BlackBerry devices

Yes

Yes

Syncs with Windows Mobile devices

Yes

Yes

Syncs with Palm OS devices

Yes

Yes

Syncs with Apple iPhone

Yes

Yes

Free technical support

Yes

Yes

Free software updates

Yes

Yes

Syncs contacts, calendar, and tasks/to-dos

Yes

Yes

Custom field mapping

Yes

Yes

Complete activities on your handheld

Yes

Yes

Link contacts to activities and calendar

Yes

Yes

Syncs opportunities to handheld's tasks/to-do field

No

Yes

Wireless sync with BalckBerry, Windows Mobile, and Palm OS devices ($9.95/month)

No

Yes

Supports additional/secondary contacts

No

Yes

Sync multiple databases

No

Yes

Sync multiple handheld devices

No

Yes

Map calendar activities to handheld device by type

No

Yes

Enable or disable alarm sync

No

Yes

Exlude any category from sync
(except Business category)

No

Yes

Syncs data with Google Calendar

No

Yes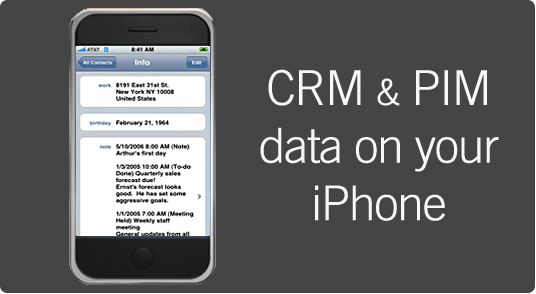 How it works

iClink is an iPhone application that works with CompanionLink Professional to keep the data on your PC and iPhone synchronized. Synchronize your PIM or CRM contacts, calendar events, tasks, notes, histories, and opportunities directly with your iPhone.
Support PIM and CRM software
ACT!
IBM Lotus Notes
Novell GroupWise
MS Outlook with Business Contact Manager
FrontRange GoldMine
Palm Desktop
Time & Chaos
Data we sync

Contacts (syncs with the native iPhone addressbook)
Calendar and phone calls (syncs with a proprietary Calendar application)
Notes and histories
Opportunities
To-do items and tasks (syncs with a proprietary Tasks application)
User-defined fields
Attachment names
Calendar and activities with linked contacts

What do you need
CompanionLink Pro on your PC - $99.95, available here.
iClink on your iPhone - $39.99, available at the iTunes Store.
Wireless sync service - $9.95 per month. Activate monthly service in CompanionLink Pro setup.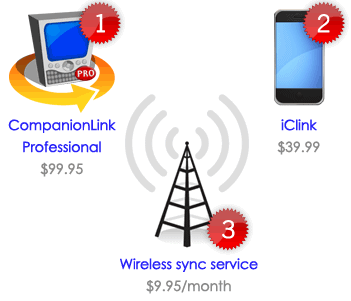 Software4advisors, software4advisors.com, CRM for financial, Financial CRM, ACT! CRM Software, Practice Management Solution, FSC Practice Management Solutions, Practice Management Software, CRM for Financial, ACT! for Financial Advisors, client and contact management software, crm software, asset allocation software, portfolio management software, financial planning software, registered reps...